The Courier | Tue, 25 Feb 2014 09:05:17 -0800
The death of his beloved mother and his father's dementia — one of the few pleasures left to his father is enjoying the music of the Pogues — are recounted. "My book is a real account of the bittersweet experiences that life throws at us," he said ...
The Courier
View Complete Story
Beaumont Enterprise (blog) | Tue, 11 Mar 2014 01:15:00 -0700
Japanese death metal, a musical about dating, Saliva, Alien Ant Farm, salsa nights, Tab Benoit, weekly stand-up comedy on Saturdays — everyone in this town could find a reason to darken the Gig's doorstep at least once. This venue is particularly ...
Beaumont Enterprise (blog)
View Complete Story
The Guardian (blog) | Thu, 06 Mar 2014 16:35:37 -0800
While Kuti's father, Fela, the legendary pioneer of African funk, died too early to experience the social media revolution, his son has become the undisputed king of AfroTweet. "I think my father would have probably got someone to do it for him," Kuti ...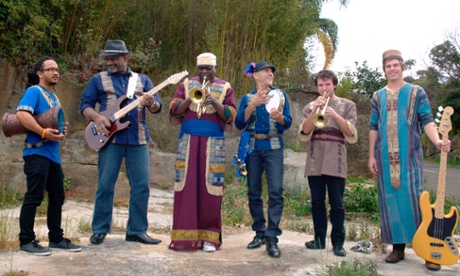 The Guardian (blog)
View Complete Story
Derby Telegraph | Sat, 01 Mar 2014 23:41:15 -0800
"We knew each other very well by that stage and I even worked on a collaboration between them and the Pogues so I was always very familiar with their music," he says. "Then I got an unexpected call from Munich asking me to come out and join The ...
Derby Telegraph
View Complete Story