Loudwire | Fri, 25 Jul 2014 14:11:15 -0700
The Marilyn Manson hot streak continues as 'I Don't Like the Drugs (But the Drugs Like Me)' stands one victory away from entering the Loudwire Classic Cage Match Hall of Fame. Manson's glam-stomp favorite just defeated Nine Inch Nails' 'We're in This ...
View Complete Story
Fox News | Mon, 21 Jul 2014 19:15:00 -0700
From left, Creator Kurt Sutter, Director Paris Barclay and actor Charlie Hunnam speak on stage during the "Sons of Anarchy" panel at the The FX 2014 Summer TCA held at the Beverly Hilton Hotel on Monday, July 21, 2014, in Beverly Hills, Calif. (Photo ...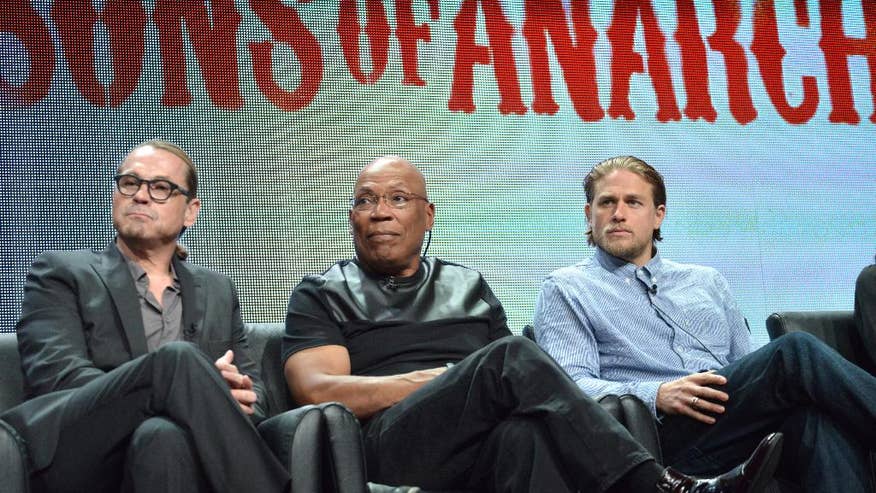 Fox News
View Complete Story
RollingStone.com | Tue, 01 Jul 2014 07:26:15 -0700
David Duchovny, who recently said goodbye to his show Californication, will be making a foray into music when he releases his debut album next year. And even though he recently tweeted a since-deleted picture of himself playing guitar with Marilyn ...
RollingStone.com
View Complete Story
New York Daily News | Fri, 18 Jul 2014 10:48:45 -0700
For Marilyn Manson, orange is the new black. The rock star has traded in his goth look for prison scrubs to portray a new character on the motorcycle gang drama "Sons of Anarchy." Manson is playing a white supremacist named Ron Tully, whom the show's ...
New York Daily News
View Complete Story